Delta Chat version
Windows: 1.4.3
Android: 1.10.4
Expected behavior
When I want to send a message in a group, the message gets send to every group member.
Actual behavior
On Android: An error appears and the message is not send. Some seconds later, the message appears and a circle is shown, that seems to say, that the client is trying to send a message, but it doesn't work. On windows sending works without problems.
Steps to reproduce the problem
I type in a message
I send it
An error appears (see screenshot)
Message appears with a circle, that shows, that the app is trying to send it.
Screen snapshots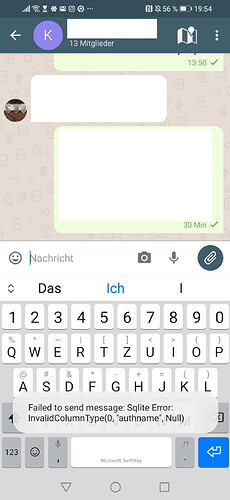 Debug logs
Logs

deltachat-log-20200708-200111.txt (26.8 KB)