So the next/current versions feature a recently seen indicator, you might already have seen it: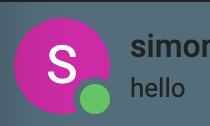 Some people want to be able to disable it because they realise that it can stress some users and encourage toxic behaviour (the latter point is more applicable to read receipts, tough).
on irc we discussed that we are open to disabling it, some wanted to disable the indicators too when disabling read-reciepts, to avoid adding a new setting which is according to one of our goals of having not too many settings in general.
Personally I think it's different enough to be worth a dedicated option, possibly right under the option for the read receipts. There are times when I want the recently seen indicator, but not send out read receipts myself and vice-versa.
Also I think it makes sense to implement this as a core setting/config-option and not in the ui.
Update:
the "recently seen indicator" does not rely on some additional "presence data", but just on the anyway available information. (last seen timestamp of contact <= 10min)