It would be nice, If I could use DeltaChat Desktop on my Linux Smartphone similar to how this is possible with Telegram Desktop. In my case, I use PostmarketOS with Phosh on a OnePlus 6T.
Expected behavior
DeltaChat Desktop fit the screen on mobile devices, scales on HiDPI Displays (mobile devices usually always have a higher pixel density) and is responsive. So if I reduce the width of the window, the contact list moves into a sidebar (As an example, of course can be solved differently). When I increase the window width, the contact list should always be visible on the left of the chat (as is already the case).
Actual behavior
DeltaChat is pixelated, the chat does not fit on the screen on mobile devices and looks creepy.
Operating System
PostmarketOS v22.12
Desktop Environment
Phosh 0.24.0
Device
OnePlus 6T
Example Images
This is how DeltaChat Desktop looks on my device: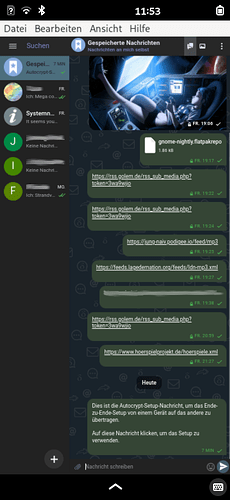 This is how Telegram Desktop looks on the same device: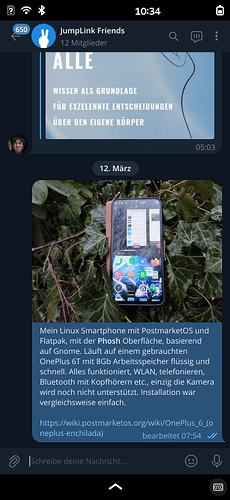 Note
I have installed Telegram Desktop from FlatHub.