Thank you! I appreciate the work of all contributors. Really a very good app but needs more promotion.
There is a problem with the translation: the days in the bubbles are in english, the hours in the local language.
1.25.1 appimage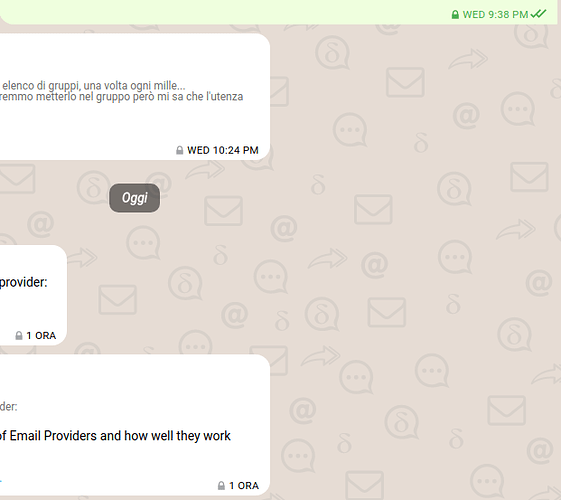 I'm noticing that in the desktop version (1.25.2 on debian) when you open a chat with multiple unread messages it doesn't open at the first unread message as it does in the android version, but directly at the end of the chat. It would be much better if the desktop version also worked by opening the chat at the first message to be read.
In version 1.25.2 the translation is fine.
is this a regression? was it better in previous versions?
what language are you using? maybe it is not mapped correctly or not supported in moment.js (the lib we use for date formatting)
I can't remember the oldest version, I've used DC desktop several months ago;
Italian.
@Gh0stz wrote to me: «momentjs isn't localized on startup (Issue #2465)…»
Re-setting the language the problem is solved
I would like to have a mailing list (broadcast messages) in the desktop version (I have Version 1.26.0 git: v1.25.0-9-g1897f54e), and not only in the mobile version.
Of course, the mail providers will not send much and often, but for a small number of participants, the function is very useful, thanks to the developers!
mailing lists are already supported in desktop.
for the new "broadcast feature" as on android, i think, sooner or later that will arrive in desktop as well. however, as it is still experimental on android, and some things need to be settled, it may take some more time. it often makes sense to draft a new feature on one system only - otherwise, changes need to be done everywhere.
Today I updated to DC version 1.26.0 via flatpak in debian sid/unstable and I noticed that the tray icon doesn't work, on the same system I also installed version 1.25.2 via .deb and the tray icon works perfectly, maybe a regression?
It seems that now the icon works properly reporting the presence of unread messages, it may be that it was a cache problem. However the icon of the flatpak version is more blurred than the one of the .deb version:

on the left the .deb version and on the right the flatpak one