Does sdf.org support IMAP & SMTP? Without it, we can't support it easily, I think.
Is there an error message? which platform are you uding deltachat on? which version of it?
Funtouch Android 5.1.1
Login gets stuck at 65% forever
If cancel after 30 mins it tells me to check that mail Id
Also, I understand the no chat history in app , but how do I pull the backup from device.
I sent a test message to my other mail ID and I am yet to receive it
Hm, the SMTP login name is a very unusual format: e.g. alan8r.sdf.org@sdf.org
And it can use two different passphrases for imap & smtp…
Apple seems to have smtp element as well though and DC works fine on that ( I ll test that for my iCloud)
Then why would smtp cause problems in case of sdf alone?

@xameer have you set the advanced settings for your account?
Imap and smtp login and so on?
I can access all my email from Emacs and gnus without tweaking any settings in smtp and imap features they already have. To do anything beyond that, I may need a little help, sdf is pubnix, so they have little user support, could you point me to some tutorial ?
Thanks
If you login to your email with delta chat you need to specify advanced options, because, as @compl4xx mentioned, your email server has special login behavior.
see https://sdf.org/?tutorials/smtpauth for information what you need to put in those fields.
Screenshot of desktops login screen, its similar on android: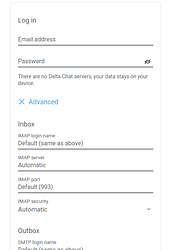 my bad I should have known. issue resolved.
Thanks