Expected behavior
The "New Chat" button is located at the bottom next to the "QR Code" and "Chat" buttons.
Actual behavior
The "New Chat" button is in the top right corner.
Explanation
I think this change would have a few advantages:
It would be easier to create a new chat with just one hand, even on large displays.
The "Chats" button with the DC logo would be back in the middle.
In my opinion this would look better and more symmetrical.
Speaking of symmetry. Similar functions would be closer together.
On the left side of the "Chats" button one could start new chats using a QR code and on the right, traditionally, by entering an email address.
DC-iOS would become more similar to DC-Desktop and DC-Android, as the "New Chat" button is already at the bottom in these versions.
In DC-iOS one can edit the chat list by holding down a finger on a chat.
This is very practical, but not immediately obvious to new users.
Moving the button frees up space at the top right.
One could add a menu there to edit the chat list.
However, experienced users would probably prefer the other method.
But future features could also be added to the menu.
For example, creating chat folders like in Telegram.
In the iOS versions of all messengers I know of, the "New Chat" function is located at the top right.
This is essentially a standard. But why shouldn't one do it better?
Example Images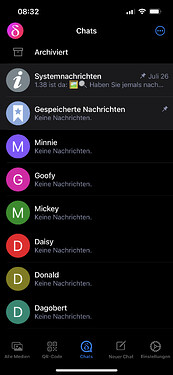 Proposed layout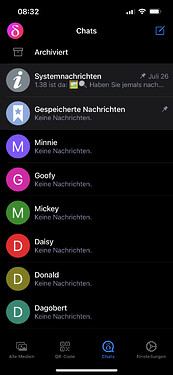 Current layout