Hi, i have some questions about Deltachat+Bots ( this particular case RSS bots ) and about infra to run bots and stats in general… Im a osm[1] mapper and want to find a better workflow to monitor changesets.
Actually i use Telegram with some RSS bot and is pretty great BUT its a thing of freedom… I want to use free software to do the same thing and i see Deltachat could be game changing here.
Openstreetmap have some feeds to keep track about multiple services[2] and the result is the next image ( RSS feed from one of them )… Maybe in the future should be possible some deltachat bot that talk directly to the OSM API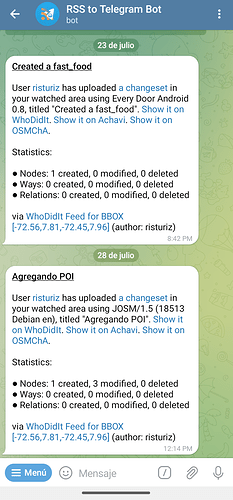 I installed Deltachat Desktop and use "feedsbot@hispanilandia.net" to emulate the same… Boom! works like i want ( maybe a little slower to get the message vs Telegram ). So this are my questions: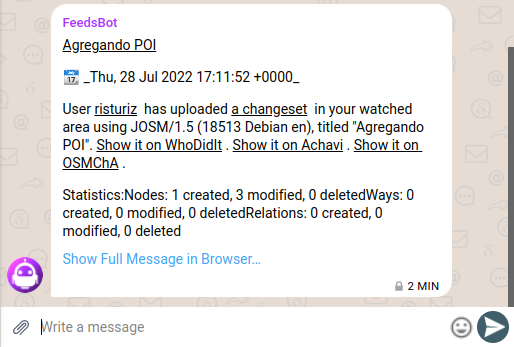 I want to confirm the option to create a group/channel and have the same rss bot send changeset notifications to multiple people ( i think its possible but i have to test that ). This can help to monitor cities, states, countrys, etc to improve QA on map.
If i understand right i need two things, a server for deltachat bot and a mail-server / mailbox ( can be the same or can be separate )… I see you use mail-in-a-box, any advice for this? Why this in particular? Any other tested mail-servers?
What are the numbers of sent emails for public bots? bandwidth? ( How many hourly… So i can check about limits of external providers )
Time to retrieve RSS feed is configurable?
I see public bots have instances on "testrun.org" / "hispanilandia.net" / "buzon.uy" / "systemli.org" … Shared/VPS/Dedicated servers? Where are these located ( country )?
Any other info that you consider important about infra would help.
Im gonna write an article on osm blog to show this alternative to Telegram, when i complete all tests and get the big picture of workflow ( yeah for sure on spanish because is my main language ).
Im open to any recommendation!
Thanks a lot for the help!!